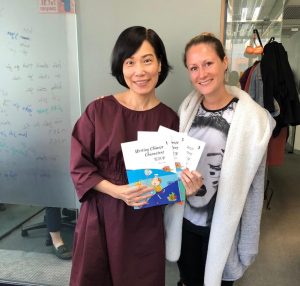 Carolyn Thompson from Britain
Mandarin Beginners Full Day (7/1 – 1/2/2019)
"I chose the HK Language School over its competitors because Mini and Branda were extremely welcoming and forthcoming with their emails. I was instantly impressed with their efficiency and they were very accommodating towards my learning requirements and budget. I spent one month at the school learning Mandarin. I walked away knowing 800 words and able to hold a basic conversation. My pronunciation also improved tenfold. My teacher, Audrey, was incredibly patient and often went out of her way to explain additional rules and concepts beyond the course. Thank you so much – I feel so much more confident to speak Chinese whilst I am conducting my doctorate research in China. I will be back for more lessons!"
The things I thought that were particularly good:
• The level of efficiency in your email correspondence.
• The welcoming and engaging school atmosphere.
• The books were really easy to follow and the learning style really worked for me personally.
• Audrey was excellent. She was incredibly patient – Adrian and I had a lot of questions for her about Chinese language. She often went home and researched how to explain additional concepts outside of the course. I was very appreciative of this.
• I love the tea and cookies! A lovely touch!
The things that could perhaps be improved:
• There are some English spelling errors in the books. This is not a big deal, but it's good to correct these for a professional operation.
• This is a personal request, but I think it would be better if more Chinese speaking was encouraged during lessons. We would learn the material and read out the sentences but it would have been very beneficial to speak more. Audrey used to test us after each book by asking question's in Chinese. This was fantastic and I would have liked more of this during the course of the books.
I hope to be back later in the year!