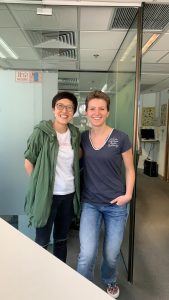 Katharina Mader from German
Cantonese Beginners Full Day (8/10 – 1/11/2019)
"I took a 4-week full-day Cantonese course at HKLS, and I would warmly recommend this school to anyone who would like to learn the language. I started almost from zero, and I never would have imagined that I could make so much progress in just these few weeks.
I had the chance to experience two different teachers during my course – both with great teaching skills and very cheerful, motivating and able to explain things clearly, so they made the lessons fun and the teachings easy to understand. As native speakers, they taught me lots of useful expressions that are commonly used. They were always responsive to questions, and willing to adapt the lessons to meet student's individual interests. The lessons focus on quickly being able to use the language when communicating in real-life situations.
I would only recommend the full-day course if you are motivated to progress quickly and willing to put in some work outside of the class time as well, because it is quite a lot of input in just a short time. But it got me speaking very quickly, and this was exactly what I had been looking for.
The lessons took place in very small groups and useful materials in paper and audio files were included in the course.
I also think the school is very well organised, communication was always easy and the conditions transparent and fair. Branda and Mini made just about any possible effort to meet everybody's needs, and I very much enjoyed the kind and welcoming atmosphere in the school.
Thank you for everything!! See you next time!