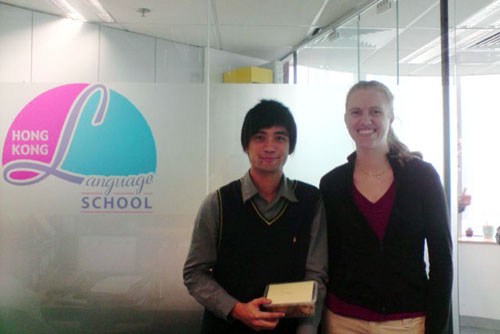 Ms Jennifer Hennings from U.S.A.
Cantonese Beginners Day Time class (24/11- 21/12, 2010)
1, Why did you choose Hong Kong Language School?
— I chose HKLS because it had so many positive student reviews on its website, and because it was offering Cantonese classes at a time that worked well for me. I also thought the price was reasonable compared to other programs I'd seen.
2, How's the school environment?
— HKLS is a friendly place. I like the way that students can have tea and snacks together and chat during the break. It makes it much more social.
3, How's the class atmosphere?
— The class atmosphere is friendly without being overly lax. I'd say it was "learning with a smile."
4, How's your teacher? Was your class effective? Did you learn what you had expected?
— Vectra is a thoughtful and encouraging teacher. He did a good job of identifying and focusing on words and phrases that were most challenging for me. He also used a good variety of exercises to help me practice. I really feel like I've learned a lot in my four weeks of lessons. The class was quite effective.
5, Will you come back & take more lessons? Why?
— If my schedule allows, I will definitely come back for more lessons, since I like the pace, structure, and price of the HKLS classes.
6, Will you recommend Hong Kong Language School to your friends? Why?
— Yes, I've already recommended HKLS to several people, and I'll continue to do so. I think the classes are a great value for the money, and the teachers are friendly, knowledgeable, and professional.