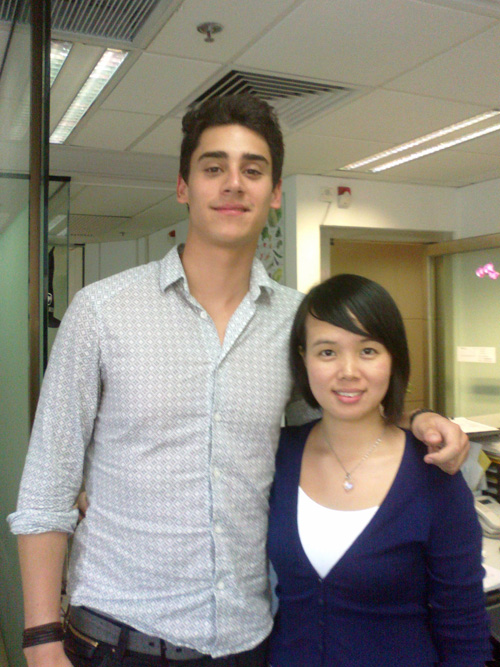 Mr. Alex Howard from Britain, Swiss
Mandarin Private Tuition (28/9- 29/10, 2010)
1, Why did you choose Hong Kong Language School?
— Because it was very convenient. Close to my house and very central relative to Wanchai. It came across as professional to me and the prices were very fair. Upon the visit I felt very welcome and at ease. At that point I had already made up my mind.
2, How's the school environment?
— Actually quite family like. After a month's time I felt really familiar with the place and everyone. It really had a cosy feel. Saying goodbye to my teacher at the end was rather difficult, a relationship had been building up with the school and the place.
3, How's the class atmosphere?
— I only took private lessons with Helen, so it was of course very personalized. It was more of a dialogue than a class. It was very casual but yet very effective and hard-working. From my point of view it really was ideal, especially to learn to express myself.
4, How's your teacher? Was your class effective? Did you learn what you had expected?
— My teacher was simply great. She taught me everything from Chinese history, to everyday culture, vocabulary, characters and grammar. She was my first real insight into China I must say. Within 5 weeks time I learned all the basics of the Chinese language. As I now moved to Shanghai I could easily get around, communicate and even explain what kind of phone deal I wanted to my mobile company!
5, Will you come back & take more lessons? Why?
— Of course! If I ever was to move back to Hong Kong from Shanghai (where I know live), I'd probably take a weekly 2-hour course just to maintain my characters and vocabulary.
6, Will you recommend Hong Kong Language School to your friends? Why?
— Of course! I indeed already have. In my own opinion HKLS is the best deal you can find in Hong Kong. Their strongest point is their outstanding flexibility.
So don't be shy, go knock at their door.