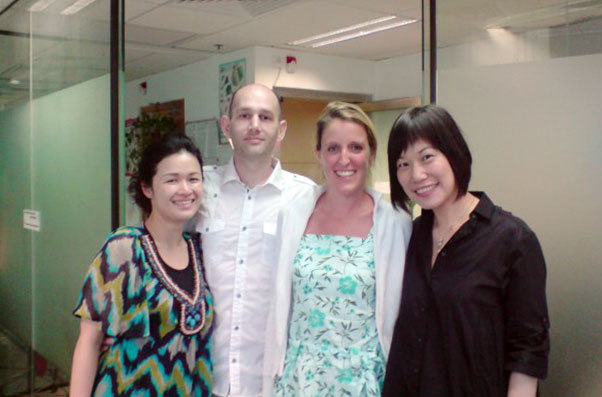 Ms. Melanie Walls from Britain (the second lady from the right)
Cantonese Beginners Level 1 Day Time class (7/3 -18/3, 2011)
Cantonese Beginners Level 2 Day Time class (26/4-11/, 2011)
1, Why did you choose Hong Kong Language School?
— A friend highly recommended it to me!
2, How's the school environment?
— Really friendly and a lovely place to spend time in and meet people! The staff are really friendly and accommodating and also help you to practice your Cantonese.
3, How's the class atmosphere?
— Really relaxed, friendly, flexible and fun! Thoroughly enjoyed the learning experience!
4, How's your teacher? Was your class effective? Did you learn what you had expected?
— I learnt so much more than expected! I couldn't believe what they fitted into two weeks! The class material was so comprehensive, but the teacher also very flexible and any extra phrases we wanted to learn she would teach us.
5, Will you come back & take more lessons? Why?
— Definitely, once I've consolidated what I've learnt! When I've used it out and about it's been great and just made me want to learn more!
6, Will you recommend Hong Kong Language School to your friends & relatives? Why?
— Definitely, I think it uses very comprehensive material as guidance but is also very flexible! It's also a really friendly, flexible and accommodating school!